CueType
's drills are progressive, but there is no
requirement
to try them in order. With the convenient Drills Drawer, you can easily
switch to any drill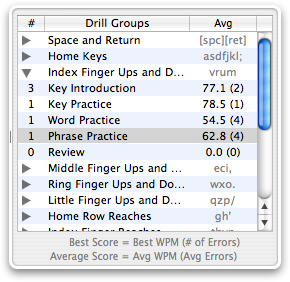 at any time
, attempting it as often or as seldom as you like.
Feel perfectly free to jump ahead and challenge yourself, or to go back and brush up on troublesome keys, or to keep trying a drill until your speed is through the roof and your accuracy is consistently 100%.
Do-over!
Set speed and accuracy thresholds, and whenever a drill attempt begins to fall short of your standards,
CueType
will immediately interrupt that attempt and let you start again.

By reducing time spent on sub-par attempts, the Auto-Restart helps you achieve greater performance more quickly.
CueType
marks your mistakes in red, letting you review them when a drill attempt is over.
The red marks turn blue on your next attempt, warning you of your previous trouble spots.

During a drill attempt, the
Keyboard
panel highlights the next character to be typed, and indicates keys pressed in error.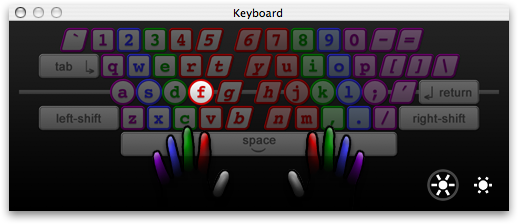 The
Ghost-Type
feature runs through a full drill automatically, with the Keyboard panel's highlighted keys illustrating helpful patterns.
Learn the U.S. Standard "QWERTY" or Dvorak keyboards, or learn them both!

CueType
maintains performance records for drills in each layout individually, so you can switch between them at will.
Note: Your physical keyboard doesn't have to match the chosen layout. You can, for instance, learn Dvorak on a QWERTY keyboard (or any other keyboard with the same basic shape). When the goal of learning to touch-type is to avoid looking at the keyboard, it doesn't matter which characters are printed on which keys!
The straightforward
Performance Report
panel compiles comprehensive drill statistics, including overall average speed and accuracy.